Happy New Year!
We here at Smartjobboard are excited to release our latest update that will save you and your customers time, as well as provide functionality to make your job board more attractive to customers. Let's have a look!
Job Cloning
Do you have jobs available that are for the same position, but perhaps they have a different job type or location and you don't want to hassle with having to recreate a whole new job posting? Problem solved! Introducing job cloning.
Within the Job Posting section of your Employer dashboard, you can click into a job you have already created and simply click the 'Duplicate' button to clone that job.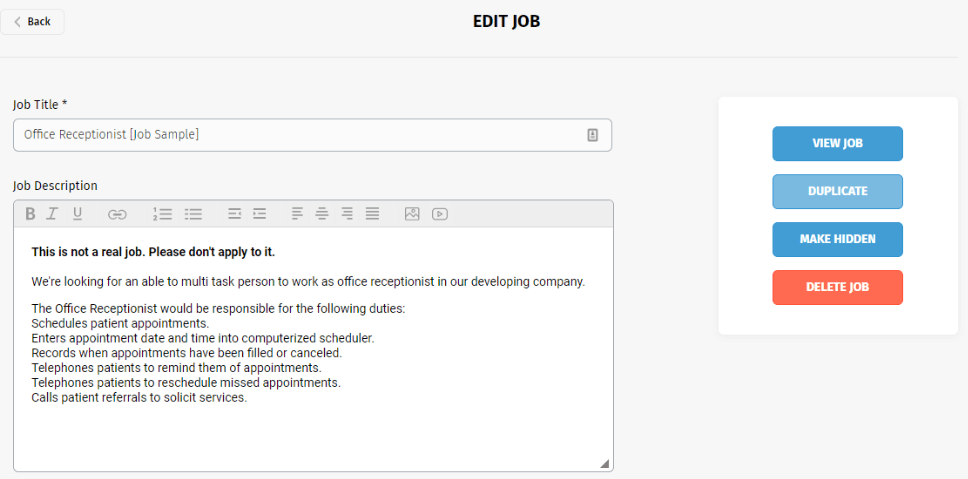 This functionality is also available via the Admin dashboard by selecting Job Board > Job Posting, selecting a specific job, and pressing the duplicate button.

You can now update the information and quickly create a new posting, saving you valuable time.
Job filters and Quick actions on Employer "Job Postings" page
As a job board owner, saving time is not only necessary for your employers, but it is also added value for you as you continue to grow your job board. All employers, especially those with a large number of job postings in their dashboard, are now able to utilize job filtering. Job filtering allows for the ability to search by keyword, as well as filter by 'All Jobs', 'Active', 'Not Active', and 'Featured' status.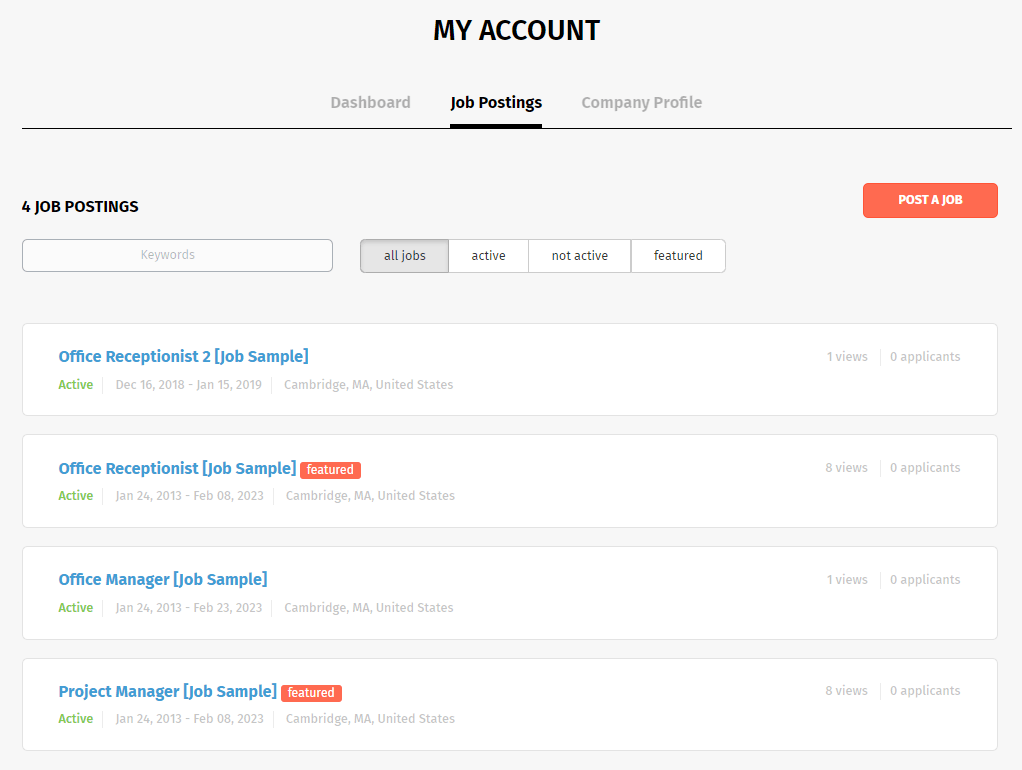 In addition to job filtering, we've made improvements within the Job Posting summary. You can now see which jobs are featured, as well as the location of the job. This information makes it easier for you to distinguish between similar jobs. Another new feature on this page are quick actions.
Quick actions now allows an Employer to activate, deactivate, and delete jobs from their main Job Postings Page.


Hovering the mouse over a job will now bring up these additional options allowing your customers to manage the status of their jobs quicker and more efficiently .
New columns for job alerts in the admin section
Job Alerts is a great tool to keep your job seekers up-to-date on the latest listings, but do you know what type of jobs they are specifically searching for and where they are searching? You can now view which keywords and what location your job seekers are focused on. Navigate within the admin dashboard and select Job Board->Job Alerts

Enjoy these convenient, informational, and time-saving features. As always, we will be here working hard to bring you many more surprises this year!