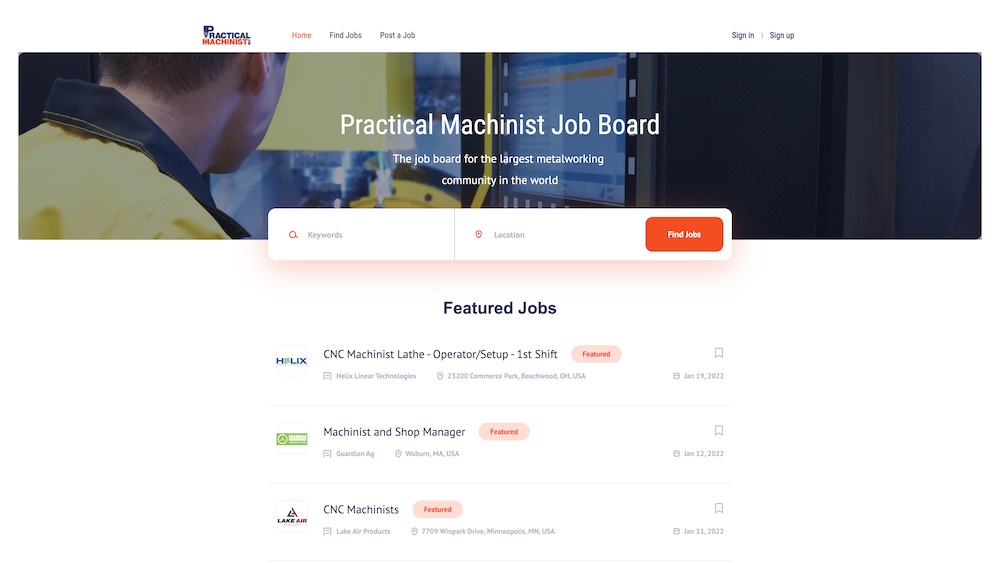 "SmartJobBoard is a great, simple platform that makes a nice looking job board with lots of customization options. After just a few weeks, we've seen over 200 job seeker profiles created and almost 100 applications sent through our board."
—Luke LoSasso, Marketing Employee

The Challenge: How to Give More Value to Practical Machinist's Audience?
The team at Practical Machinist had a big challenge to overcome… They had to find new ways to give more value to their audience.
This would be tough. They were already the most influential brand and the most visited website in the metalworking industry. They already reached millions of metalworking professionals every month, they already produced lots of relevant content for their audience, and they already ran the world's largest manufacturing technology forum — in any niche.
In short: Practical Machinist was already giving their audience a lot of value, and their team needed to find creative ways to fulfill their audiences' remaining untapped needs.
Thankfully, the team at Practical Machinist had an idea.
The Solution: Creating a Job Board to Connect Job Seekers and Employers in the Metalworking Industry
"There is always a high demand for machinists in our industry, and we felt that giving another platform for people to connect with employers would be valuable to our audience."

Luke had researched the world of machinists front-and-back, and he knew that the industry had a really big problem — the skills gap.
Machinists have a specialized skillset with a lot of demand and not enough supply. The U.S. manufacturing skills gap is projected to have 2.1 million unfilled jobs by 2030, and employers in the industry are always looking for the right talent.
And yet, Luke saw that there were only a few dedicated job boards that directly connected machinists with employers, and general job boards like Zip Recruiter never had enough specialized machinist jobs or candidates on them.
Now, Practical Machinist had been connecting skilled machinists with employers for years. They had multiple sub-forums, and each had accumulated hundreds of threads and thousands of posts.
But Luke thought that Practical Machinist could do even more, and capture a unique opportunity by directly tackling the skills gap head on. Specifically, Luke felt that Practical Machinist could create a dedicated niche job board that would:
Deliver even more value to their audience by directly connecting industry employers and niche workers.
Create a new revenue stream for Practical Machinist by unobtrusively monetizing key employer actions on the board.
Luke presented his argument to his stakeholders in the business, and they agreed to his plan. He was cleared to create the job board — but first he needed to find the right tool for the job.
Finding the Right Tool: How Dirk Chose SmartJobBoard
Remember — Luke worked in marketing. He was not a computer engineer, and he could not code a job board from scratch. He was also the only person at Practical Machinist working on this project, and it could not consume all of his work hours.
In short: Luke needed to find a tool that made it fast, simple, and easy to create a custom job board. To help his search Luke defined five criteria that his ideal job board tool had to hit to meet his needs.
Features: It needed a full suite of capabilities that could meet all of his audiences' needs, and that could expand the board's functionality over time.
Ease-of-Use: It needed to have an intuitive back-end interface and controls, so anyone could create, customize, manage, and update the board as needed.
Look and Feel: It needed to be customizable so it could carry Practical Machinist's branding, and overall fit in with the rest of the company's assets.
User Experience: It needed to provide a smooth experience for both employers posting jobs and job seekers creating profiles and sending applications.
Price: Finally, it needed to fit into Luke's exploratory budget, and to deliver meaningful ROI through the additional revenue it would generate.
Luke looked at a variety of job board tools, but ultimately, Luke found that SmartJobBoard best hit the criteria he laid out. In particular, he found SmartJobBoard to be simple, intuitive, and easy to customize.
Luke signed up for SmartJobBoard, and got started. Here's what happened next.
Big Benefits: How Luke Delivered Rapid ROI with SmartJobBoard
Using SmartJobBoard, and working alone, Luke quickly created a dedicated job board for Practical Machinist's audience — https://jobs.practicalmachinist.com/.
Luke and Practical Machinist launched their board in late October 2021, and within just a few weeks their project already generated meaningful benefits, including:
Rapid User Adoption: Their audience created over 200 job seeker profiles and sent almost 100 applications through the board.
New Revenue Streams: Many employers posted jobs to the board for a fee, and each post generated new revenue for Practical Machinist.
Easy Management and Tracking: Luke has used SmartJobBoard's native dashboards to easily track the board's high level progress and key metrics.
By deploying SmartJobBoard, Luke was able to bring company's idea to life, and found a way to deliver new value to Practical Machinist's audience and new revenue to the brand, in record time.

"After just a few weeks we've seen

over 200 job seeker profiles

created and almost

100 applications

sent through our board."

The Road Ahead: Take the Next Step with SmartJobBoard
Looking forward, Luke and Practical Machinist are working to expand the reach of their new job board. They are investing in marketing strategies to drive traffic to their board, and they are hoping to partner with trade schools and large organizations to directly connect even more job seekers with great employment opportunities.
In sum: Practical Machinist's job board has given their audience a significant amount of new value and become a valuable brand asset that's delivered big benefits — and SmartJobBoard can help you make your own.
To see if SmartJobBoard is right for you, take the next step.