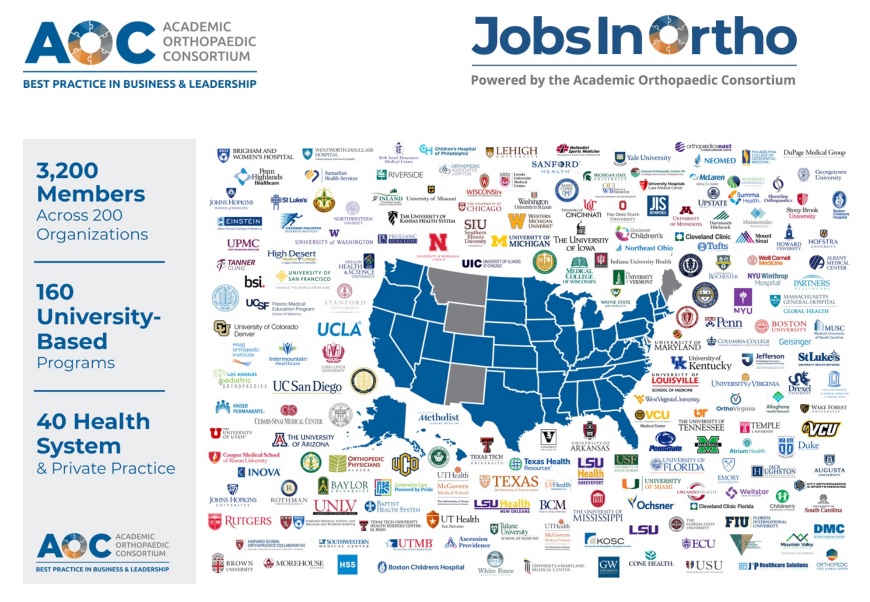 "We trusted SmartJobBoard as our choice for creating a jobs platform (JobsInOrtho). They were cost effective and had scalable options with outstanding customer service….and 14 days after launch we were the #1 job board for orthopaedic surgeons in the United States."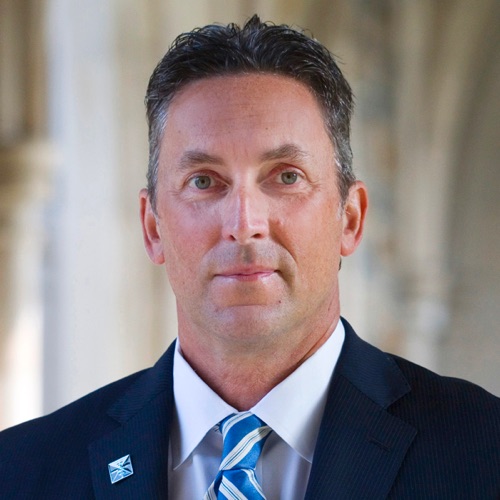 – Michael R. Gagnon, MBA
Founder & CEO, Academic Orthopaedic Consortium
Founder & CEO, JobsInOrtho
Chief Administrative Officer- Emeritus
Duke University Orthopaedics
Context
The Academic Orthopaedic Consortium (AOC) is an organization that provides best practice in business and leadership for university-based orthopaedic programs across the country. Today that membership includes 160 university-based musculoskeletal enterprises and an additional 40 health systems and private practices.
During the summer of 2020, the AOC organized a national survey across its membership to better understand the pressure points and needs for orthopaedic surgeons navigating job search and replicated this survey for those that would employ them.
Over 90% of orthopaedic residents and fellows indicated that existing methods of identifying what jobs are even available (let alone applying for them) are highly inefficient. Further, 98% of orthopaedic residents and fellows indicated that a jobs platform that would aggregate orthopaedic jobs would be a superior alternative to anything else that existed. 
From the employer side, 100% agreed that having a blue-chip pipeline of university orthopaedic trainees would be valuable to their practices and over 80% of these practices were not aware that orthopaedic residents and fellows struggle to identify their employment opportunities.
AOC Turns to SmartJobBoard to create JobsInOrtho
In response to its orthopaedic residents and fellows demanding a solution to reduce the anxiety and frustration of identifying what jobs were even available, the AOC turned to SmartJobBoard to quickly establish its career platform.
"We did an extensive search to identify the various alternatives to establish a jobs platform. This process included reaching out to CTO's around the country to independently gauge opinion on the options (quality, price, ease of use). This due diligence led us to select SmartJobBoard solution to establish JobsInOrtho," remarked Michael R. Gagnon, MBA, Founder & CEO, AOC and Founder & CEO, JobsInOrtho.  
Gagnon utilized direct input from the AOC's orthopaedic residents and fellows and from orthopaedic employers to design the functionality of the JobsInOrtho platform on SmartJobBoard and to ultimately aggregate the best orthopedic jobs in the country onto a single platform. The AOC built its platform utilizing a technology that significantly reduced the costs and efforts of posting jobs for employers. The simplicity of the site, not only from a build out standpoint but from a user experience, has allowed JobsInOrtho to come to scale very quickly. 
"We launched JobsInOrtho on November 2, 2020 and within 14 days we were the #1 Orthopaedic Job Board in the United States, this would not have happened were it not for Rodion and his team and the SmartJobBoard solution," says Gagnon. "The customer service component of SmartJobBoard was, and still is, critical to our ability to create such a platform that is providing significant value across the United States. Kudos to Rodion for his vision and for having created such an invaluable option for organizations that wish to establish job boards in a cost efficient and scalable manner. The simplicity and the value of SmartJobBoard are game changing not only for our company but for those we serve (job seekers and employers)."
JobsInOrtho gets positive feedback from Job Seekers and Employers
"When COVID hit, Mike proactively engaged hundreds of residents across the country in conversation to ask how he could help us and to better understand our needs…and he then went to private and academic practice leadership to replicate this needs assessment and created an incredible platform with content to make us stronger candidates who are better prepared for practice while also helping to satisfy our ACGME requirements.  JobsInOrtho brings tremendous visibility to all job opportunities while increasing efficiency and reducing anxiety and costs for everyone." 

Jason Lipof, MD, Clinical Fellow, Department of Orthopaedic Surgery, University of Rochester
"I believe this is another great link between private practice and academic practice. The content they provide to all residents and fellows about preparing for the business of orthopaedics and how to navigate job search and employment contracts is top-notch and will allow new hires to hit the ground running when they start their careers with orthopaedic practices. For our practice, this career platform comes at a great time since we are recruiting 3 or 4 new associates to handle market growth and retirements."

Bill Hyncik, CEO, Princeton Orthopaedic Associates