Leading metalworking brand Practical Machinist recently launched a new online job board for metalworkers and their industrial employers.
The new platform — located at jobs.practicalmachinist.com — is one of the few online job boards dedicated to the metalworking niche.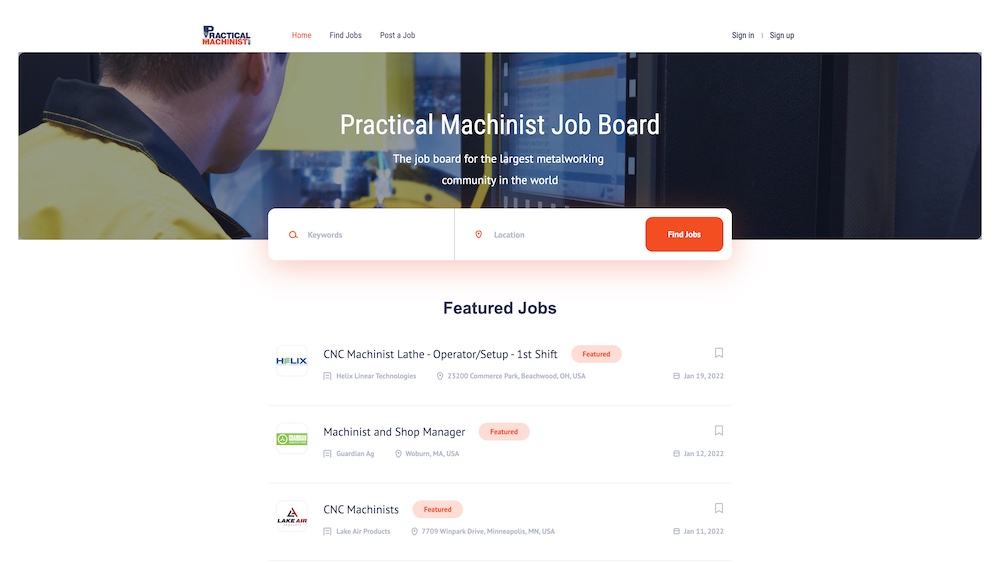 "There is always a high demand for machinists in our industry, but general-purpose job boards like Zip Recruiter never have enough specialized candidates or jobs," explains a representative from Practical Machinist. "We felt that giving another platform for workers to connect with employers would be valuable to our audience."
The U.S. manufacturing market is projected to suffer from 2.1 million unfilled jobs by 2030, and Practical Machinist is well-positioned to help address this gap. They have the largest and most influential brand in the metalworking industry and their digital channels reach millions of manufacturing workers and employers every month.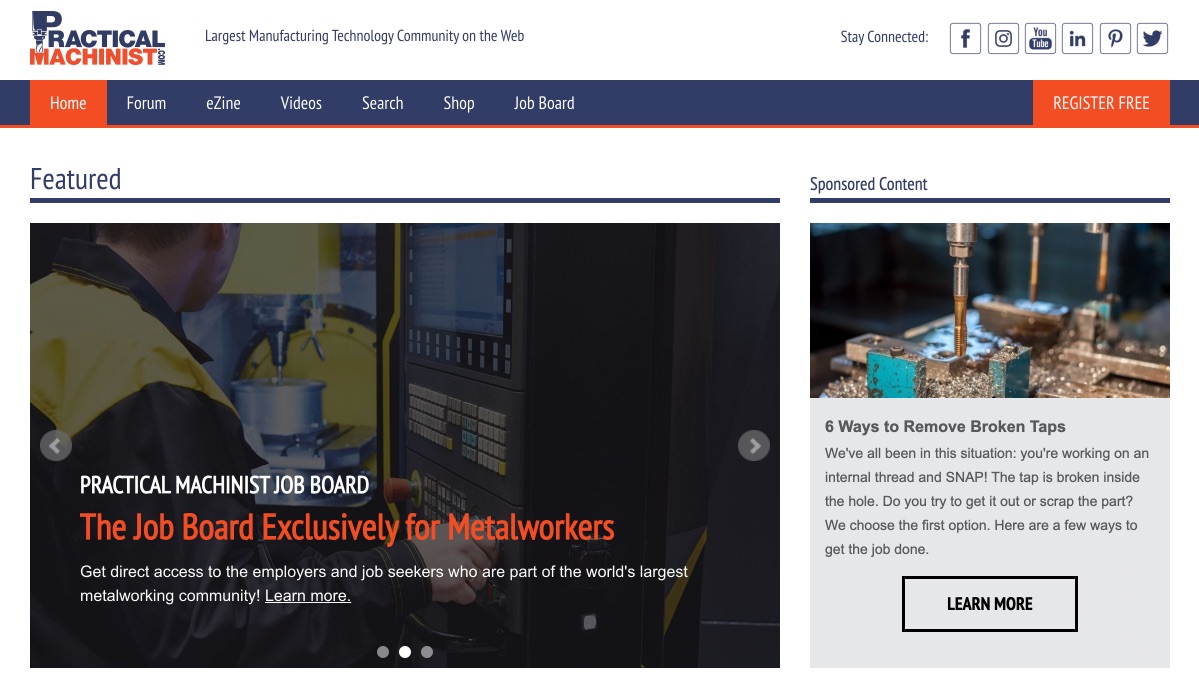 Before launching their new job board, Practical Machinist already dipped their toes in connecting manufacturing workers and employers. They operate the world's largest manufacturing technology forum and have maintained multiple sub-forums for Career Opportunities. While these forums have thousands of posts, Practical Machinist believed they could do more.
"We knew we could deliver even more value to our audience by directly connecting industry employers and niche workers," explained Practical Machinist's representative. "We felt we had a unique opportunity to tackle our industry's skills gap head-on by creating a dedicated niche job board."
The project was spearheaded by marketing employee Luke LoSasso, who built Practical Machinist's job board using the tool SmartJobBoard.
"I needed a tool that made it fast, simple, and easy to create a custom job board," explains LoSasso. "I began to look for job board tools, and evaluated them according to multiple criteria including their features, ease-of-use, look & feel, user experience, and price."
Luke looked at a variety of job board tools, but ultimately, found that SmartJobBoard best hit the criteria he laid out.
"SmartJobBoard is a great, simple, and intuitive platform that makes a nice-looking job board with lots of customization options," explains Luke. "It has also been simple to manage and made it easy to track our board's growth."
Luke and Practical Machinist launched their new job board in late October, 2022 and their board was rapidly adopted by metalworking job seekers and industrial employers, and it has already added value to Practical Machinist's audience and brand.
"Within just a few weeks of launching, we saw over 200 job seeker profiles created and almost 100 applications sent through our board," explains LoSasso. "At the same time, we were able to create a new revenue stream for the Practical Machinist brand by charging a small fee for each job posted."
Practical Machinist continues to invest in their job board and is pursuing multiple opportunities to expand its reach and better serve their audience.
"We are hoping to partner with trade schools and large organizations to directly connect even more job seekers with great employment opportunities," explains LoSasso. "We believe our job board is exactly what our industry needs to connect our skilled workers with our niche employers."
Visit Practical Machinist's job board: jobs.practicalmachinist.com
Learn more about the SmartJobBoard Tool: smartjobboard.com