The more pages you have on your job board the more traffic you can get from search engines.
Here at SmartJobBoard we're always eager to help our customers get more traffic. So we built a sophisticated tool which automatically creates job title/location specific pages based on the jobs that you have.
URL Structure
The pages have the following URL structure:
YourDomain.com/jobs/Job-Title-jobs-in-Location/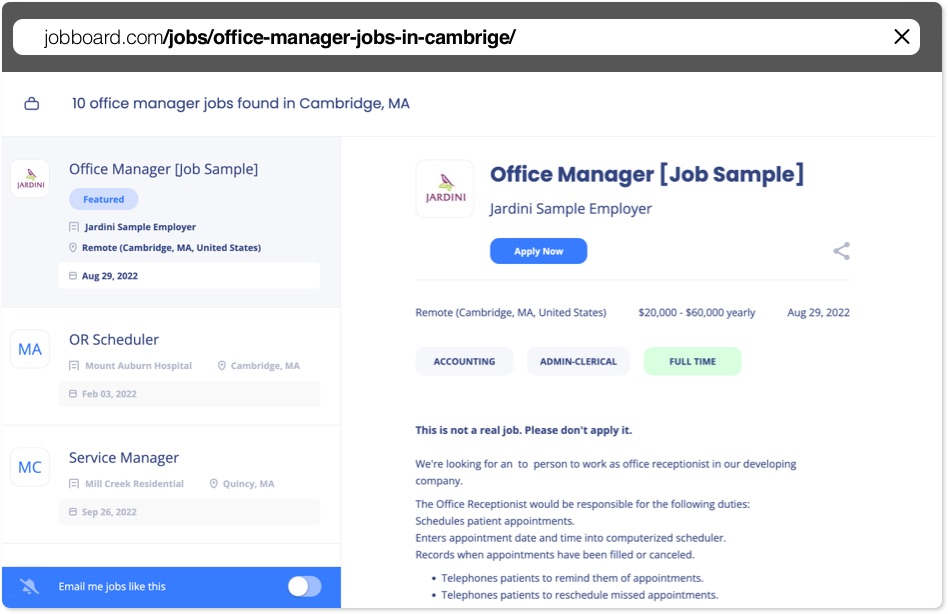 Examples:
/jobs/receptionist-jobs-in-new-york/
/jobs/aviation-jobs-in-london-uk/
/jobs/veterinarian-jobs-in-new-zealand/
/jobs/registered-nurse-jobs-in-seattle/
and this will display a list of jobs corresponding to the job title and location specified in the URL.

Performance
Page titles and meta descriptions of these pages are also optimized for better SEO performance
We create these pages and add them to your sitemap automatically, so that search engines can easily find and index them.
You don't have to do anything since the process is completely automated.
These pages will increase chances of showing your job board in search engines search results when users search for job titles listed on your job board.
---
As always, thanks for taking the time to read our latest updates, and should you have any feature requests, please let us know as your feedback can potentially help shape future updates.