If you aren't using social media marketing to promote your job board, you're missing out on one of the most effective free marketing tools available.
Social media helps you naturally and organically connect with your audience. As well as connect with your readers' and candidates social network. As you provide valuable content, your followers share it, expanding your reach.
This new audience is highly targeted. First, users tend to share only with people they know will find value in the post. Second, people typically trust this type of "peer reviewed" content, as it comes from a trusted source: their friend.
In this article we're going to review most popular tips and tactics that you can easily implement for your social media strategy.
What Platforms do Job Seekers Prefer?
Today's job seekers overwhelmingly rely on social media to find the best jobs.
Link Humans offers great statistics on the social media habits of job seekers and recruiters. So, which social media platforms do people use most?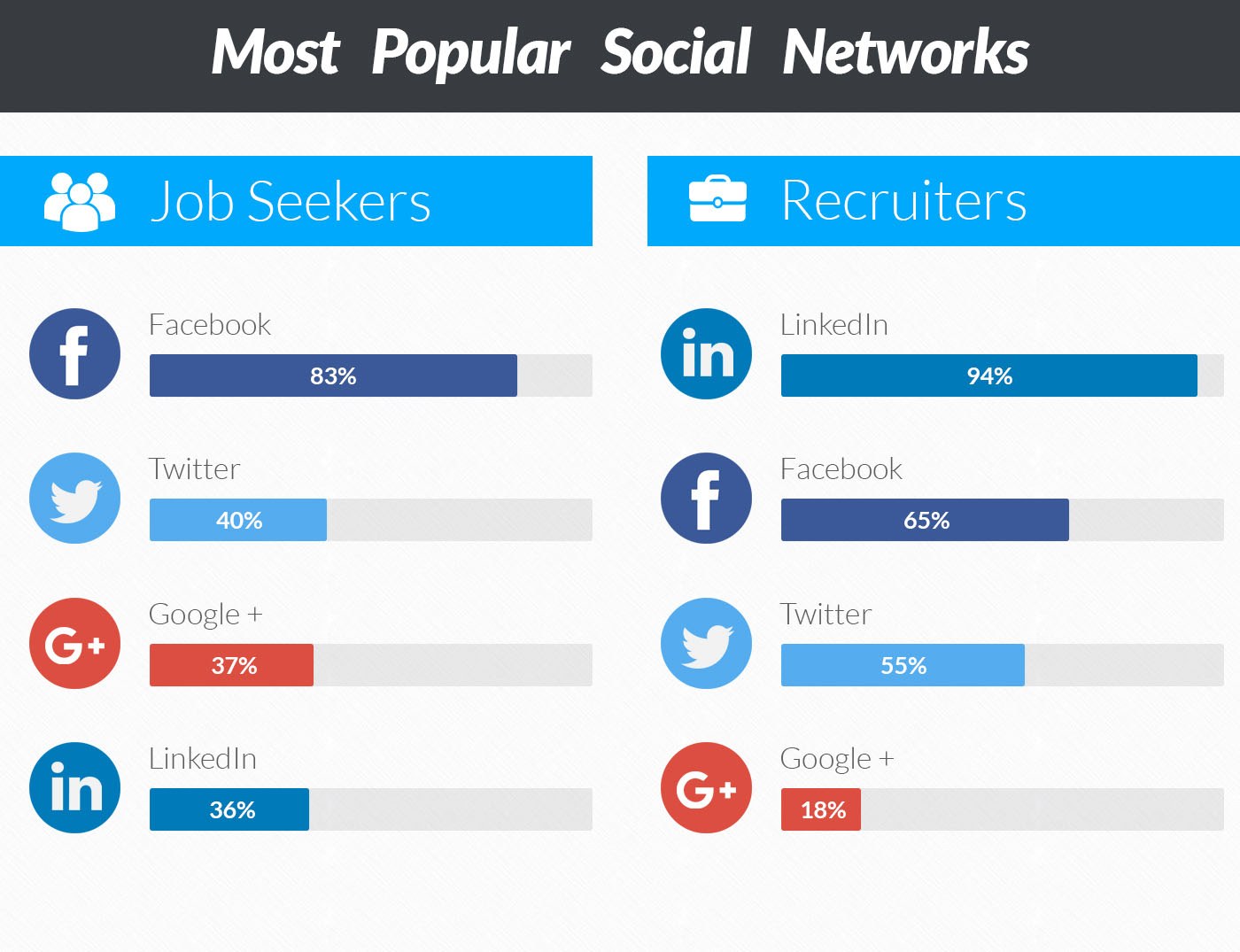 You'll notice that both groups rely on more than one platform when either seeking or recruiting. This means that you should, too.
Finding Your Target Audience
Before launching your social media accounts, do some research for better targeting. You want to use the same platforms your audience uses. To start with, target three or four social media platforms.
Make Sharing Simple
You need to make it easy for people to share your content on social media. So add the appropriate buttons to each job details page of your site. Or make sure that your job board theme already includes this.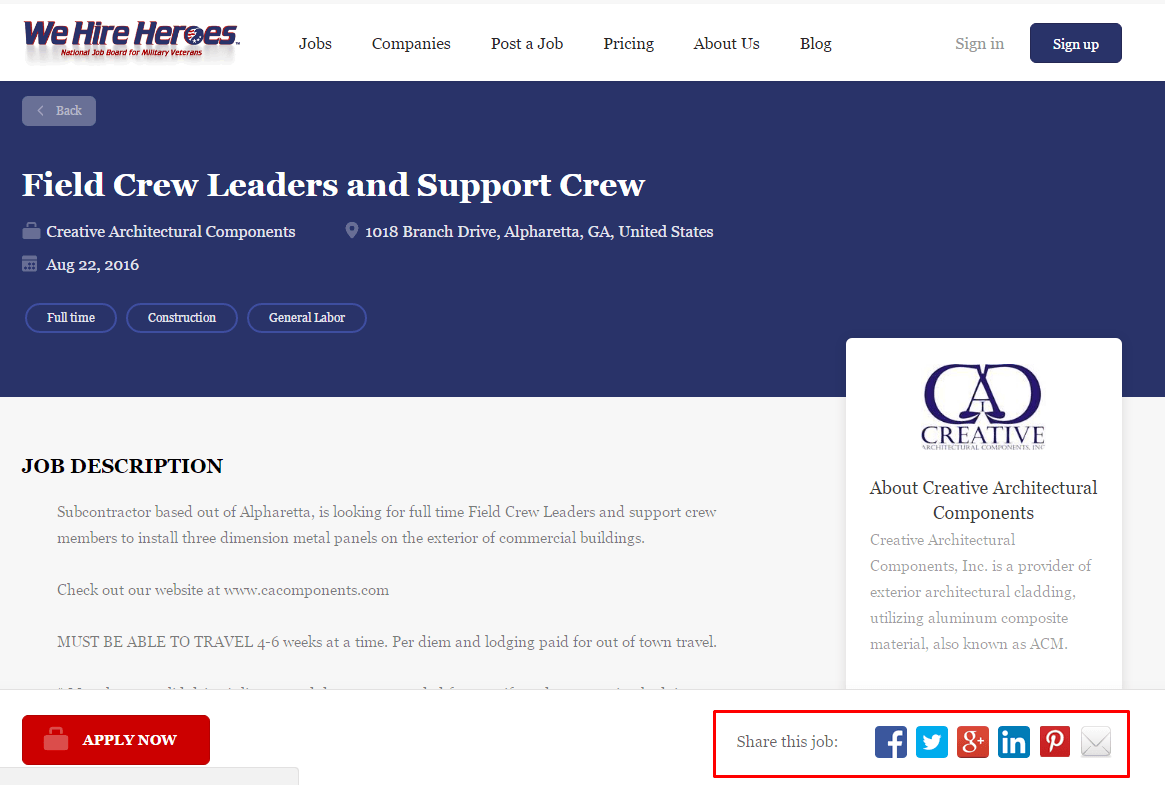 In your blog (yes, you must have a blog), make sure each post includes "click bait" quotes, and encourage readers to "tweet this" at least once in each post with a tool like ClickToTweet.
Finally, make sure visual content transfers easily and correctly to social media sites. This requires proper formatting and making images shareable.
Choosing what to Share
For job board it's common to share job postings and other useful content on their social accounts.
Everything you share must be relevant to your job board. This is not the place to post your political views, cat memes, or updates about your favorite band. Save that content for your private social media accounts.
In addition to new job postings, share content from your site or blog, as well as content from other relevant sites. This may include résumé building tips, data and stats on growing industries, or information on upcoming job fairs. As long as the content is relevant and provides value, it qualifies for use as a post.
Take a look how FreshGigs mix their new jobs tweets with useful content and news in their twitter account.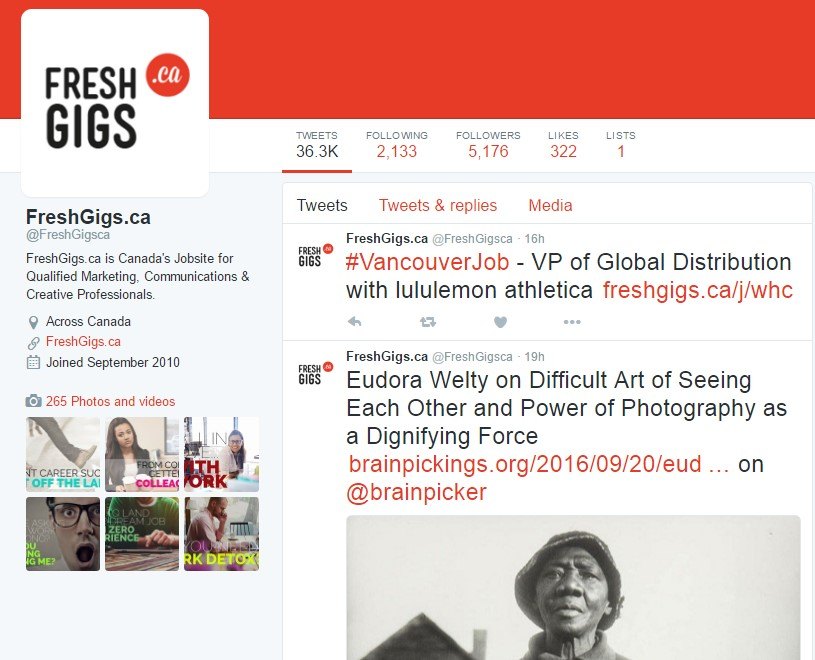 With a fresh title, you can republish your blog on your social media feeds, and link readers back to your site. Use a tool like twitterfeed to make sharing your blog and other site content simple.
Finally, always use hashtags on Twitter to broaden your reach. For example, if you're posting a security job, end with #security #job. Every post, every time, needs to end with #industry #job.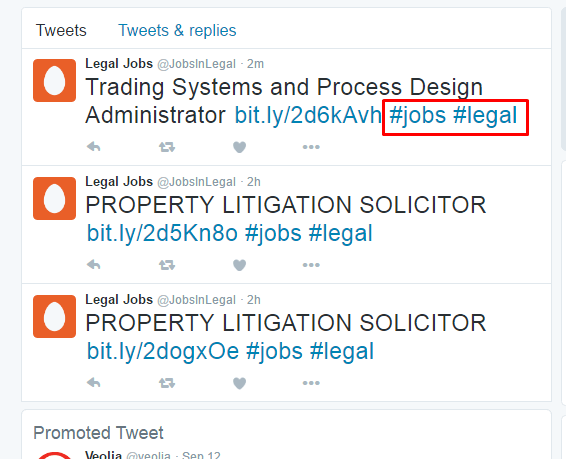 Use Groups on Facebook and LinkedIn
Both Facebook and LinkedIn offer groups for job seekers as well as recruiters. So take advantage of these opportunities for free traffic.
Chris Russell from jobboardsecrets.com has a great ebook with a lot of practical advice on using FB and LI groups. You can get a book here:
http://www.jobboardsecrets.com/2016/04/26/new-ebook-the-essential-guide-to-job-board-marketing/
Here is what he advices in a few words:
Find a Facebook job group by searching location or industry, plus the word "jobs" or "careers". For example, type the words "Remote jobs" in the search bar, then join every available group.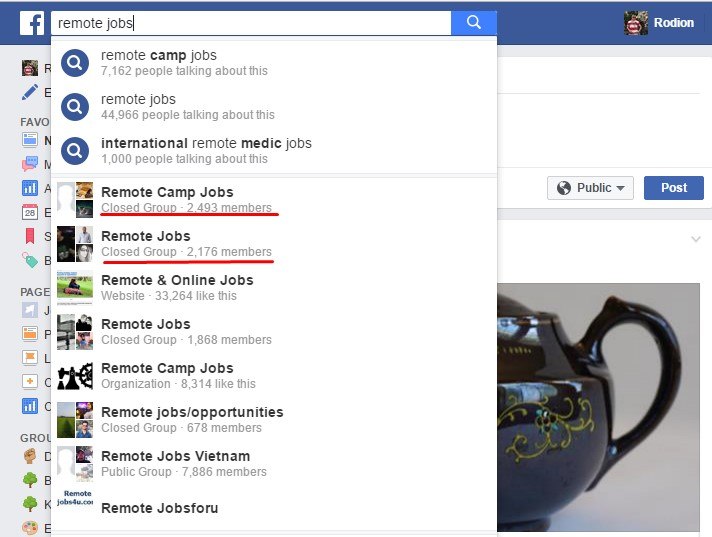 Upon acceptance, post a relevant job every day.
Do the same thing for every relevant location and industry. If you find one that doesn't have a job group, start your own.
In addition, look for recruiter groups on Facebook. If you have something relevant to share, this is the place to do it. The keyword there is relevant. Your goal is adding value and building relationships.
Use LinkedIn Pulse to publish your own pieces, including republishing content from your site under a new title that links readers back to your job board.
Search for LinkedIn groups to join the same way you searched Facebook. You probably won't spend as much time here, but it should be your go-to site for high-level positions difficult to fill.
Automate Sharing
Consistent, regular posting is another key component of successful social media marketing. There is no golden, ideal number of daily, weekly, or monthly posts. Check out what others in the industry do, and tailor your early efforts after that.
When posting to job boards on sites like Facebook, or tweeting new job opportunities, post at least one job per day.
Some great apps out there make this a lot easier. In addition to twitterfeed, Buffer and Hootsuite allow you to schedule and time posts to occur on all of your social media profiles.
You can also use Facebook recruitment app to create a jobs tab on your Facebook page and sync all jobs from a board there.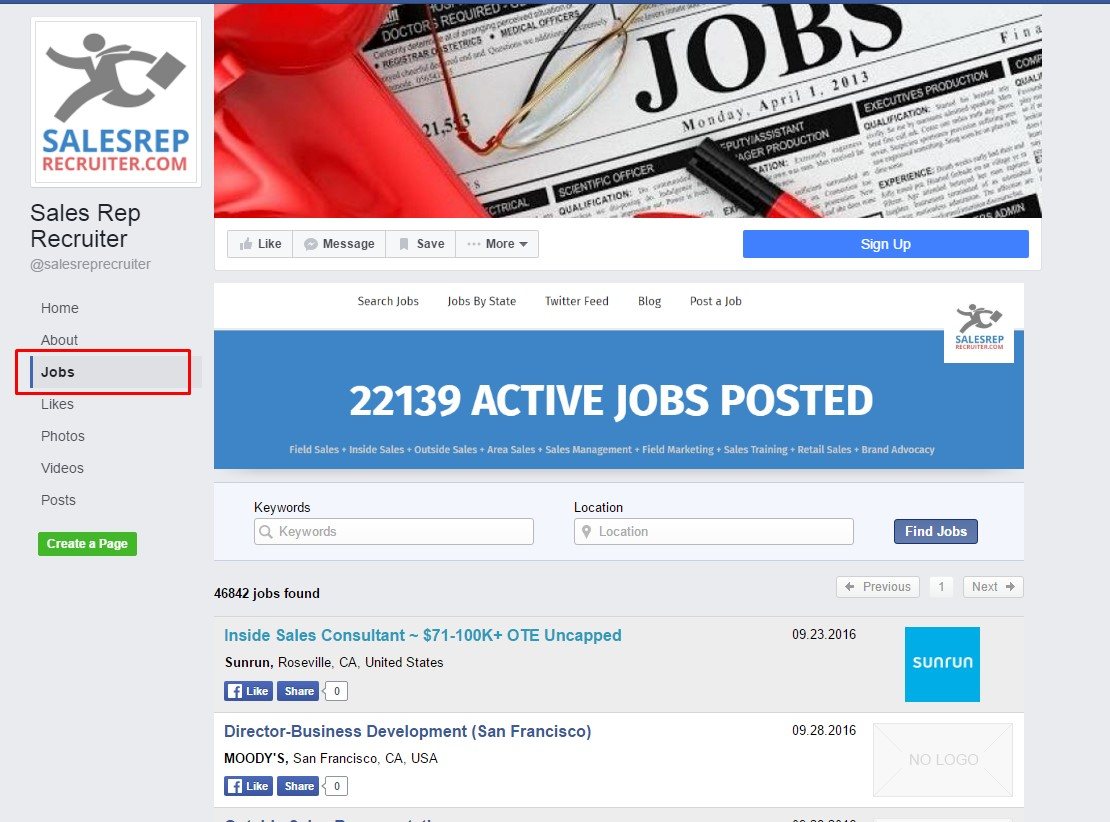 Promoting Your Social Accounts and Gaining Followers
The main point of job board social media marketing is drawing new traffic to your site. To do this, you need to grow your list of followers.
As you post more valuable content, this happens naturally. However, you can help it along with a couple of tricks.
For example, in Twitter, follow every pro working in your niche.
How? Make a search in Twitter using your industry name and click on Accounts in the "More options" bar. This will give the list of industry experts in your niche.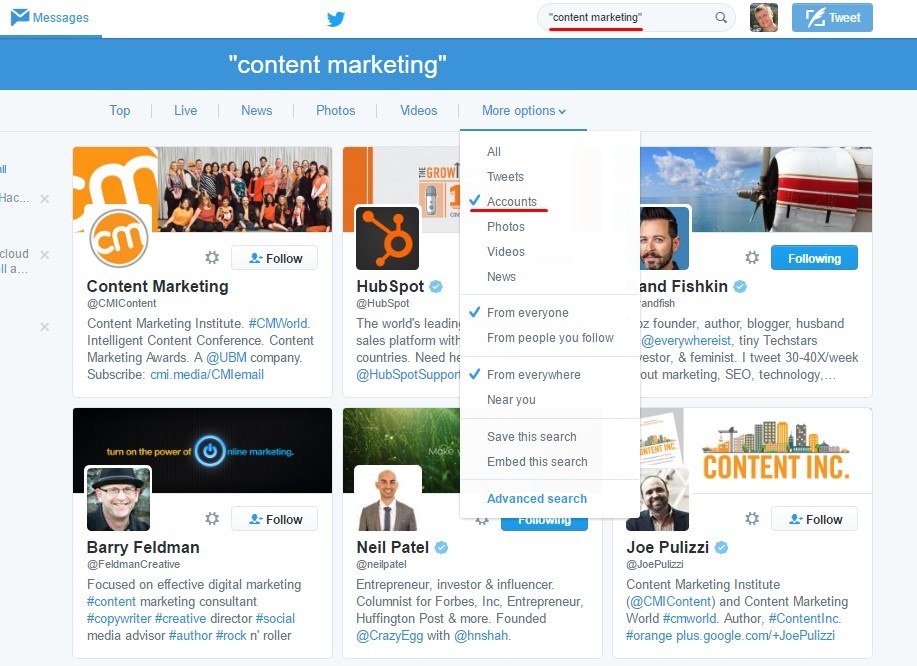 Then, follow each account you find. Some of these people will choose to follow you back, especially if they find value in your Twitter feed.
You should also look at Buzzsumo for influencer marketing, which really taps into the emotional responses behind social media's boom.
Just enter your niche specific topics to its search bar and see what content is most shared. Then click on "View Sharers" to see who shared this content on twitter.

Buzzsumo will suggest who of these sharers are influencers. You can then contact them and ask to share or re-tweet your own content.
Use Paid Advertising
When done right paid advertising on social media, can boost your marketing efforts and allow you to reach lots of passive candidates.
Larry Kim from wordstream.com has an excellent blog post on how he used Facebook Ads to recruit one of his employees. While his advice is generally for employers it can also be used by job boards to promote jobs from their sites.

Keep in mind that Facebook's ad targeting can be really efficient. And can save you a lot of marketing budget by displaying your ads to relevant audience only.
You can do geographic and demographic targeting, as well as choose interests of your potential job seekers.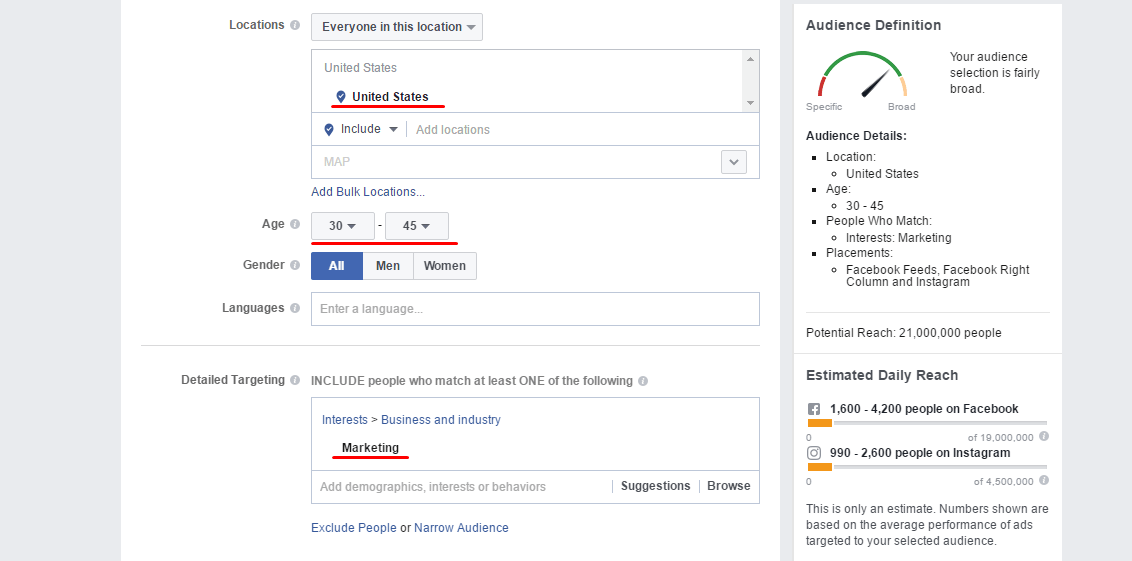 Conclusion
With a bit of planning and research, your job board's social media strategy will be off and running and you'll be drawing in new users from Facebook, Twitter, LinkedIn, and more.
We'd love to hear about your experiences with social media marketing in the comments, as well as answer any questions you have.