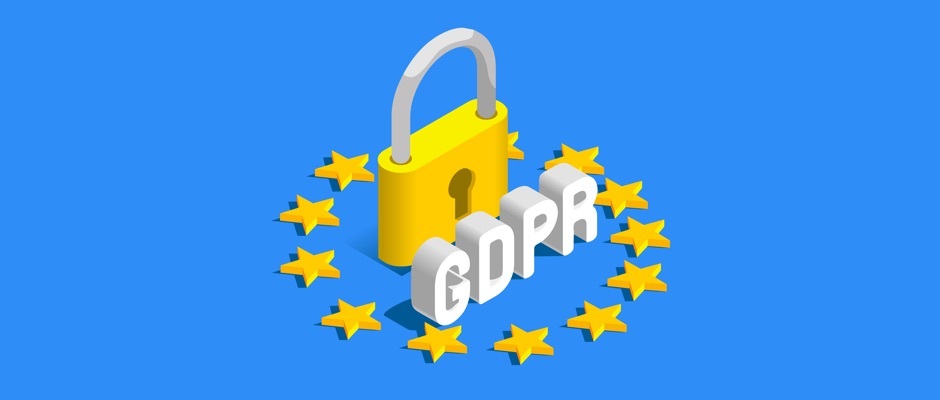 Hey, job boarders all around the world!
By now, you've probably heard of the General Data Protection Regulation (GDPR). If not, on 25th May 2018, the most significant piece data protection legislation, since smartphones and internet in your pocket were introduced, will come into force.
The GDPR is an attempt to strengthen, harmonize, and modernize data protection law and enhance individual rights and freedoms. The GDPR applies to any organization that uses the personal data of people located in the EU.
Here at Smartjobboard we're fully aware how important it's to comply with these regulations for our customers. And how frustrating it can be to understand all the nuances of it.
Over the last months, we worked hard to make all the necessary arrangements to help our customers comply and make sure we're also compiled as data processors.
In this article, we prepared some basic information regarding GDPR for you and what changes we've done to make you prepared.
Does the GDPR Apply to you?
If your Job Board has users in the EU, either job seekers or hiring companies, then the GDPR will apply to you. You should consult with a GDPR specialist regarding the full scope of your compliance obligations.
What have we been doing to prepare?
Smartjobboard welcomes the GDPR as an important step forward to enhance data protection across the EU and the globe and as an opportunity for us to strengthen our commitment to data protection. As such we have undertaken the following:
A Data Protection Officer has been appointed
We have analyzed what personal data we process and confirmed our lawful basis for processing
Our data breach response procedure has been improved
We have created a Data Protection Agreement to give you legally binding guarantees that any data you share with us is afforded the highest level of protection (here is a link for you to get the agreement)
We have created GDPR FAQ section in our knowledgebase to answer the main question you may have about GDPR.
Moreover, we've done the following changes in our platform to help you comply:
New Privacy Policy Template
Privacy policy is one of the best ways to make it easier for your users to understand what information you collect and why you collect it.
We understand how frustrating and time consuming it might to describe all the nuances in your privacy policy. And to help all our customers to comply with GDPR, we created Privacy Policy template, that can be used as a basis for your working policy.
It can be found now in your Content > Pages section and it's not active page by default.
We recommend you to read and modify it to your particular requirement carefully before using it on your site.
Please note that this template cannot be considered as legal advice from Smartjobboard under any circumstances.
We strongly recommend you consult a specialist to obtain legal advice specifically applicable to your business.
New "Privacy Protection" Settings
One of the main GDPR requirement is to get user consent when collecting his personal data and subscribing him to your mailing list.
To simplify this process for you we've added a new "Privacy Protection" section in System Settings. It enables you to configure which consent you'd like to collect during registration.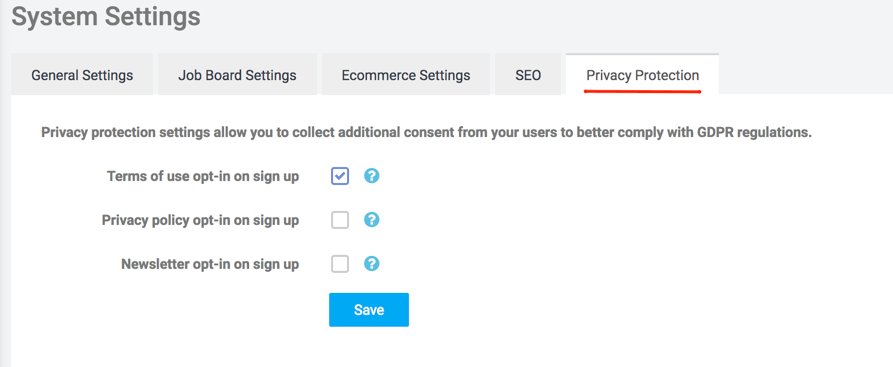 The following options are available:
Terms of use opt-in on sign up – Enables standard "I agree to the terms of use" checkbox on the registration page.
Privacy policy opt-in on sign up – Enables additional "I agree to the privacy policy" checkbox on the registration page.
Newsletter opt-in on sign up – Enables to collect a newsletter subscription consent from your users on the registration form. If you're using MailChimp integration, only users who opted-in will be added to your MailChimp mailing lists.
What you can do as a job board
We understand that compliance with the GDPR requires a partnership between Smartjobboard and our customers in their use of our services and we look forward to working with you on this important new regulation.
What are your responsibilities as a Job Board?
You will typically act as the data controller for any personal data you collect in connection with your Job Board. The data controller determines the purposes and means of processing personal data, while the data processor processes data on behalf of the data controller. We are a data processor and processes personal data on behalf of you in that we store the data of your users on our systems.
You should also seek advice from a GDPR specialist relating to your status and obligations under the GDPR, as only a qualified specialist can provide advice specifically tailored to your situation. If you would like to be put in contact with our preferred partner regarding GDPR please contact us here.
Where should you start?
As a Job Board the following is some tip on where to start your compliance journey:
Consider creating an inventory of personal data that you handle.
Review your current data protection controls, policies, and processes to assess whether they meet the requirements of the GDPR, and build a plan to address any gaps.
Put in place a Data Processing Agreement with your data processors.
Here's a link for you to get a copy of ours.
Monitor updated regulatory guidance as it becomes available
Once again just to remind you, please don't take this as legal advice as we recommend you consult a specialist to obtain legal advice specifically applicable to your business circumstances.