Hey Smart job boarders, I hope summer is treating you well and you are not melting too much 😉
We promised to get back to you with more updates, didn't we? We keep our promises.
Now, let's get a closer look at new features.
Conversion Tracking in Google Analytics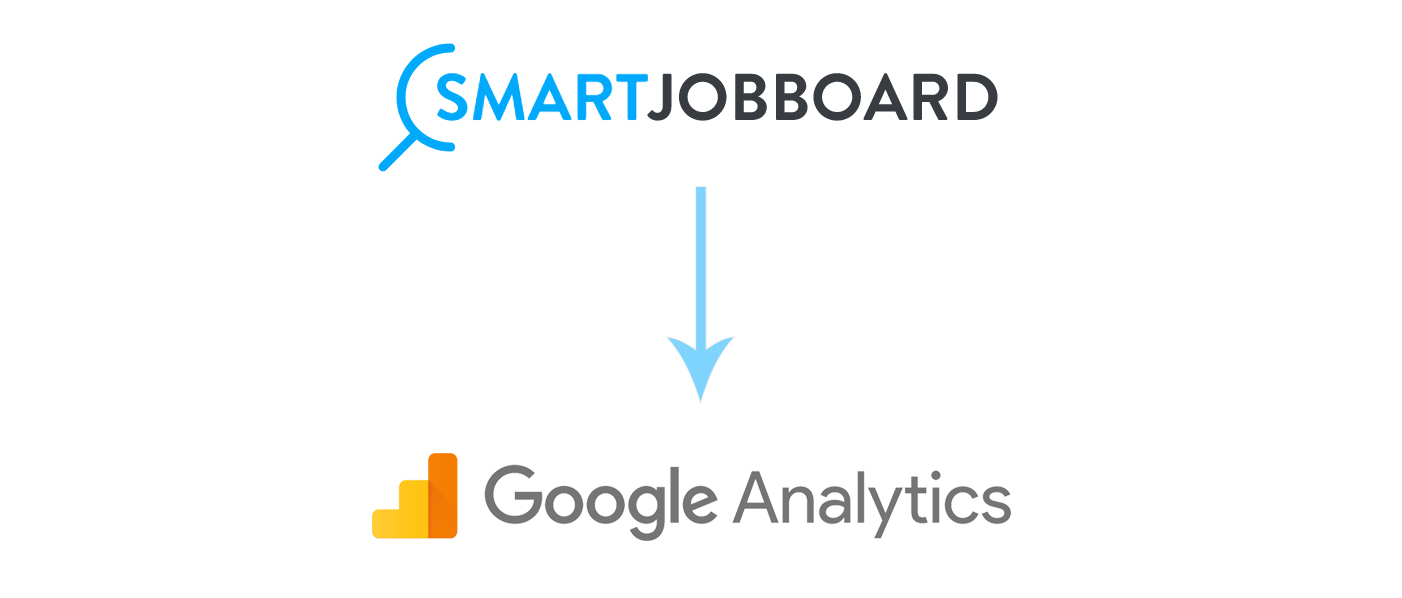 Google Analytics is the most popular analytics tool for websites. It's free and it can give you a lot of insights when used right. It might seem hard, however, to properly configure it since it may require some tech skills.
To make things simpler for you as much as possible we've added automatic Google Analytics integration.
Now you can easily track different conversions in your GA account:
employers and job seeker sign ups
job views
applications and apply clicks
job postings
sales
Use these conversions as a guide, for example when planning your ad budget.  Get on with reviewing generated data, and it will help you analyze which marketing channel is the most efficient for you to get more sign ups and applications.
You can even track and compare stats collected to see how this or that ad campaigns influenced on your site's sign up or apply rate.
In future, once analytics is collected, you can have a complete, detailed map of how your site is doing, where are the weaknesses and strengths, and what parts need more of your attention.
Sounds appealing? 😉
First of all, let's start with getting into Google Analytics account and creating a property for your site.
Then just go to Settings > System Settings > Google Analytics click "Connect", and select the property you've created.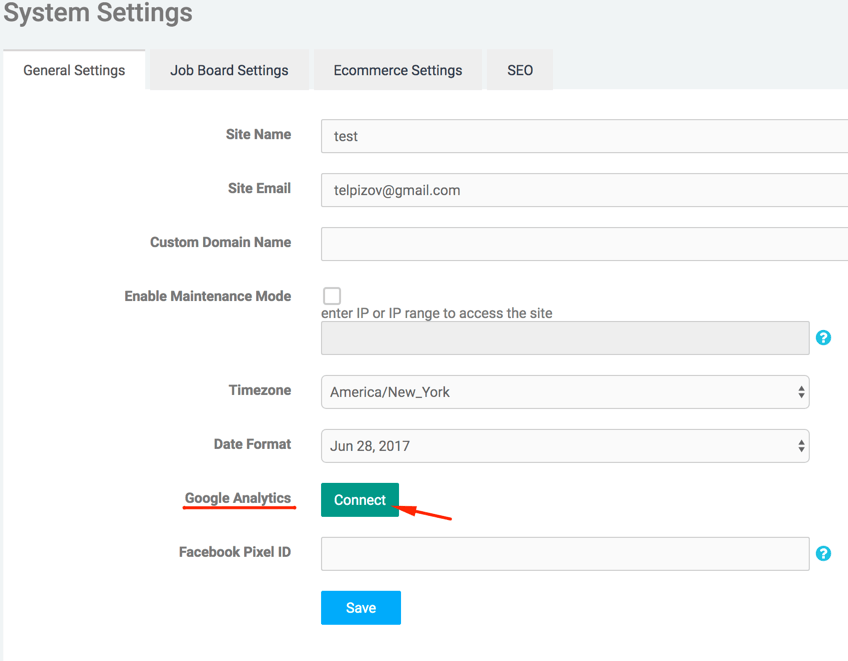 Once your site is connected to your Google Analytics account, there is nothing else you need to do since we'll pass all conversions to Google automatically. Now you are ready to go and explore the Google Analytics Conversion Tracking.
For example, using the Channels report below you can see a detailed, elaborated table filled with data: traffic to the site, the sources of traffic (direct visits, search engines, etc.), web conversions, the number of pages visited, time spent on site, and geographic origin of visitors among many other metrics.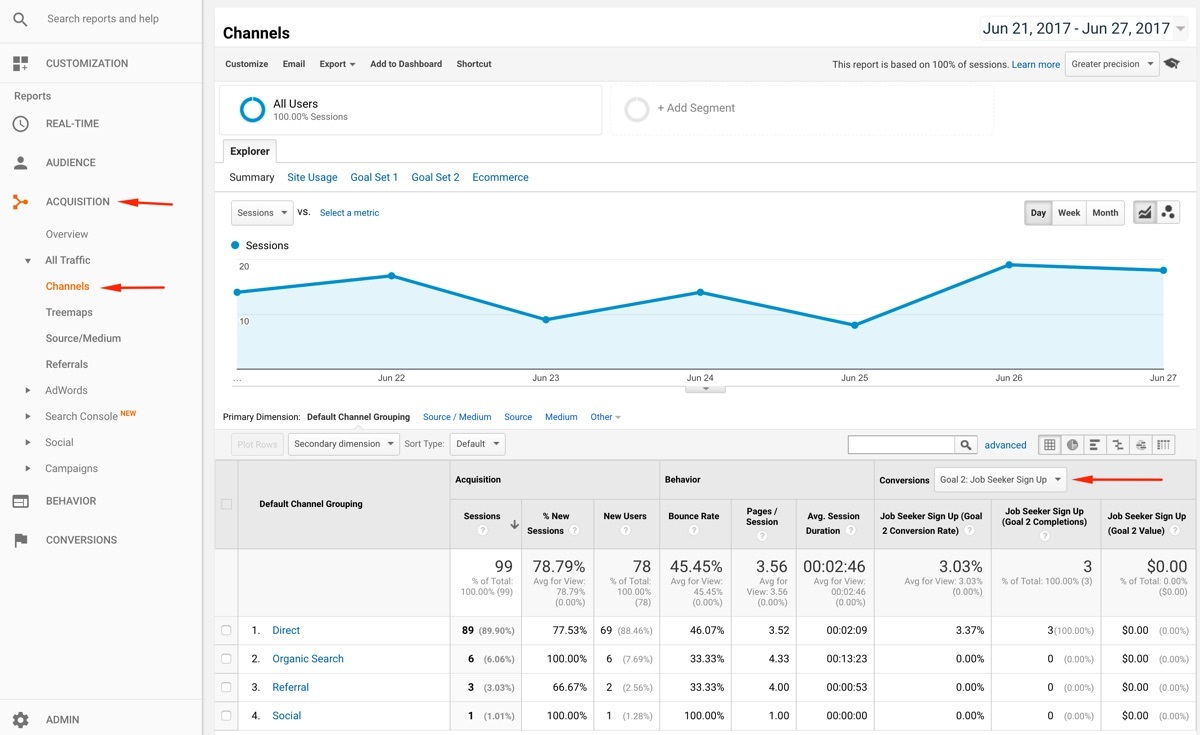 Facebook Pixel Integration
We also have added a Facebook pixel integration, which will help you to track conversions of your FB ad campaigns: https://www.facebook.com/business/a/facebook-pixel
Just enter your Facebook Pixel ID in Settings > System Settings > General Settings > Facebook Pixel ID, and we'll send all your site conversions to Facebook.
You will be able to view conversion data in your Facebook Add manager > Facebook Pixel tab.
Customized Job Alert Form on Homepage
Customizable job alert form on the homepage allows your job seekers get more detailed, and interest-oriented job alerts from your site. There are no more spam emails with all jobs coming to your users. They will get alerted only for jobs they are interested in.
You as admin can choose what type of parameters to add into your homepage job alert form, by going to Appearance > Customize theme> Job Alert Widget > Job Alert Form Fields.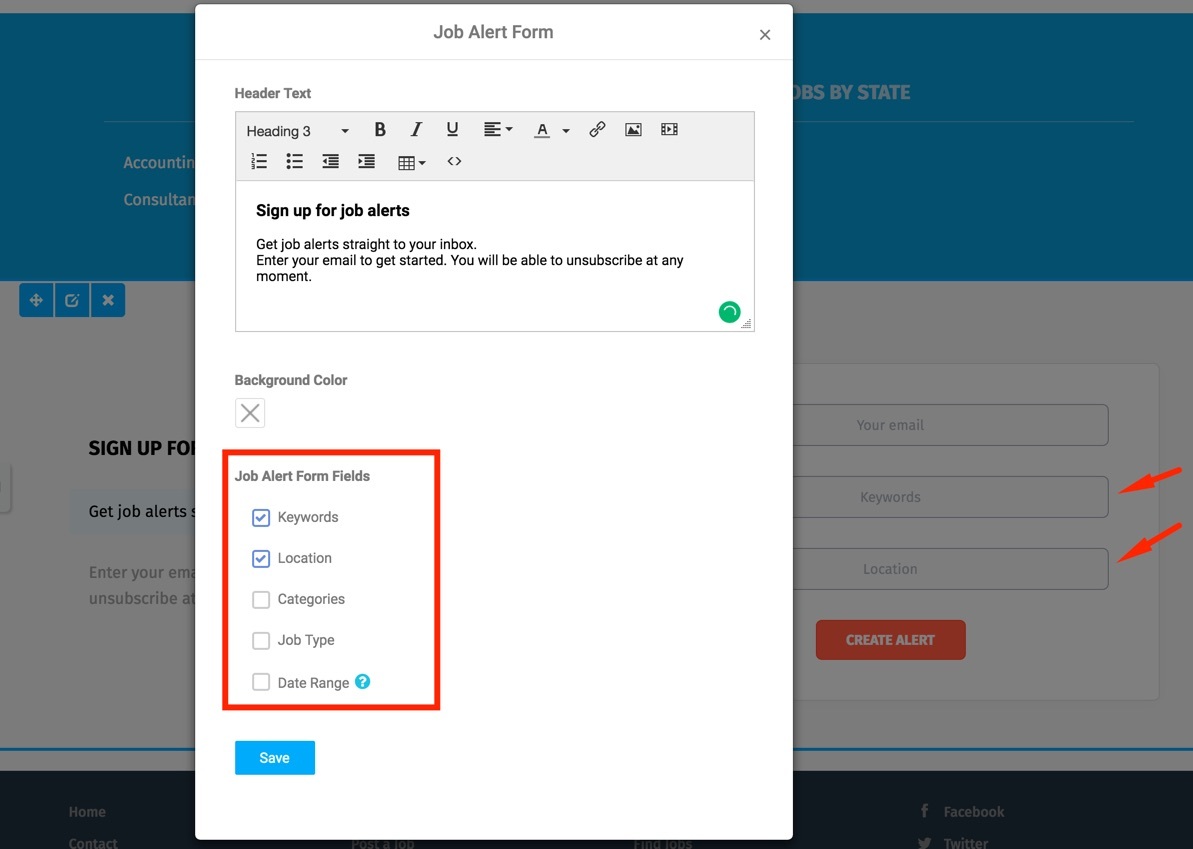 Hide Companies With 0 Jobs
Sometimes, it is a bit frustrating to click on a company profile and not see anything that they offer. That's why now the Companies page can be configured to show only companies with active jobs. It definitely can be better for job seeker experience in some cases, as it easier to review companies who might have what they are looking for.
Also, it might be good for employer branding, as employers might not want to be viewed while not having any jobs yet.
To enable this option, go to Settings > System Settings > Job Board settings and select "Hide companies with 0 jobs".
Filter Job Seekers Without Resumes
Sometimes, even if job seekers register, they don't go all the way and create resumes. So, it is nice to have an option to filter out those job seekers who don't have a resume.
You can see how many of such job seekers are there, maybe even contact them and remind them to submit a resume.
Now you can do this in Job Board > Job Seeker Profiles > Filter Job Seekers > Without Resume Only.

There is also a filter in Export Job seekers section to export only those who don't have resumes.
Just import them into your Mailchimp account, and contact via mass mailing.
Limit Location Search up to 5 Different Countries
We have SmartJobBoard users all over the world. And some of them target not one, but several different countries. For their convenience, we have added a possibility to have several countries be available in the Location field.
You can go to Settings > System Settings > Job Board Settings > Limit Location Selection to > choose up to 5 countries: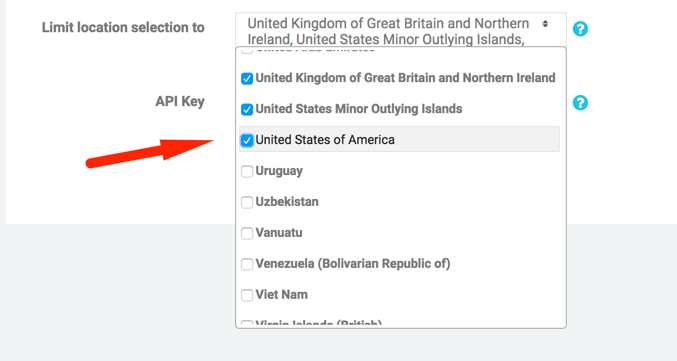 If you are still with us, thank you! You are a champ, you've made it 🙂
I will leave you at that and let you discover all newly added awesome possibilities for yourself. We hope all of the features above will be of use to you and your business! See you soon 😉